North Haven Teeth Whitening, Dental Implants, Veneers
Fantarella Dental Group offers a full array of dental services to help you maintain healthy teeth. You can read more on this page about specific services.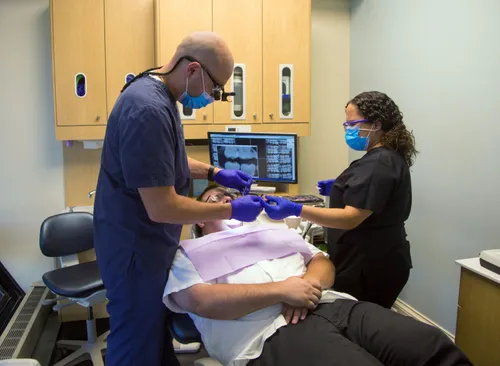 Bonding is a conservative way to repair slightly chipped, discolored, or crooked teeth. During dental bonding, a white filling is placed onto your tooth to improve its appearance. The filling "bonds" with your teeth, and because it comes in a variety of tooth-colored shades it closely matches the appearance of your natural teeth.
Crowns are synthetic caps, usually made of a material-like porcelain, placed on the top of a tooth. They are used to replace large fillings, protect weak teeth from fracturing, fix a fractured tooth or cover a tooth that has had a root canal or a dental implant. Using our advanced CAD/CAM technology, this is done on-site and in a single visit.
Also produced by CAD/CAM, bridges are custom-made appliances that can replace missing teeth in both appearance and in function.
Dentures are removable replacements for missing teeth and surrounding tissues. These are custom devices that either replace some or all the teeth while restoring your smile and mouth function.
A filling is a way to restore a tooth damaged by decay back to its normal function and shape. If you have a tooth that requires a filling, the dentist will first remove the decayed tooth material, clean the affected area, and then fill the cleaned-out cavity with a filling material. A filling also helps prevent further decay by closing off any cracks or spaces where bacteria can enter.
A dental implant is an ideal tooth restoration for people who are missing one or more teeth because of injury, periodontal disease, or any other reason. The implants themselves are tiny titanium posts that are surgically placed into the jawbone where teeth are missing. Our doctors are experts in placing implants and restoring them with crowns that look and feel like natural teeth.
Veneers are thin pieces of porcelain or plastic cemented over the front of your teeth to change their color or shape. Veneers are used on teeth with uneven surfaces or are chipped, discolored, oddly shaped, unevenly spaced or crooked. Very little tooth structure is removed and the results are cosmetically pleasing.
Whitening can be used to treat stained and discolored teeth, or simply to enhance a dull smile. This can be done in the office with a laser or done at home using plastic trays and a whitening gel worn for short periods of time.
Sealants are used to fill in narrow grooves in a tooth that cannot be adequately cleaned by brushing. These sealants help prevent cavities in the grooves and pits.
Root canals are performed when a cavity and infection reaches all the way to the pulp of the tooth. This is diagnosed in our office. A root canal cleans out the infected pulp and the canal is filled to prevent further infection. Most patients who have root canal experience little or no discomfort or pain, and enjoy a restored tooth that can last almost as the original tooth.
Sometimes due to severe decay, infection, or fractures, teeth must be extracted or removed. We can do this in the office, often the same day as your exam.
Dentures are removable replacements for missing teeth and surrounding tissues. These are custom devices that either replace some or all the teeth while restoring your smile and mouth function.
The Invisalign treatment is an alternative to traditional braces for fixing crooked, malaligned teeth, but since the trays are made of clear plastic, they are virtually invisible. In addition, because Invisalign trays are removable, they can be taken out while eating, drinking, brushing and flossing.
Solea Sleep is a simple to administer, low-power application on the Solea All-Tissue Dental Laser that provides rapid relief for snoring by tightening the soft palate and reducing vibrations that cause patients to snore. Unlike other laser sleep treatments that require up to 4 sessions lasting 30 minutes each, Solea Sleep is a single, non-surgical treatment that takes 5 minutes to administer with long-lasting results.